An Unexpected Hero was again chosen by teachers for NZReadAloud (Year 7-8), after being first picked in 2017. NZReadAloud is a national programme involving close to a hundred schools who read the chosen books together, exploring the text online with classes in other areas.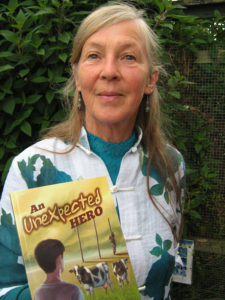 Being online with students for six weeks I yet again engaged with their emails, Tweets, letters and questions and saw their classroom work as they followed Matt's adventures, and finally discovered the identity of the 'Unexpected Hero'.
My NZReadAloud competition for a tee-shirt design featuring the white feather of peace attracted many entries. They included contributions from a participating school in the US, WJJ Middle School in Connecticut. 2019 winner was Namrata Santhosh from Kohia Terrace School, Epsom. Second was Matthew Watson, Mokoia School, Rotorua. Third was Nika Rayward from Mahana School, Nelson.