On 15 May this year (2016) I was in the UK, joining others in an outdoor celebration of Conscientious Objectors (COs) held annually in Tavistock Square, London. I was there courtesy of my book An Unexpected Hero  (2014), based on my research into Archie Baxter, World War One conscientious objector and father of poet James K. Baxter.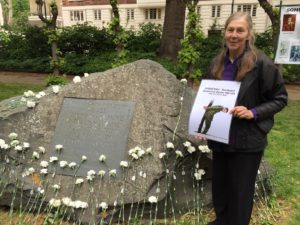 Ten peace groups shared the management of the London event which included speakers, choirs and the ceremony of placing a long-stemmed white carnation for a pacifist from each of seventy nations listed on a large memorial stone. Archibald Baxter had already been selected for New Zealand and I met people there who knew a great deal about him, as he wrote his celebrated book We Shall Not Cease in the UK.
I received a generous welcome and heard many moving speakers, including a young woman from Israel imprisoned for refusing compulsory military service. There are many of these COs, a fact little-known outside Israel and the women receive particularly abusive treatment. 
An Unexpected Hero was welcomed by one of the main organising groups in particular, the UK Quaker Education team who gifted me many of their resources for promoting peaceful methods of dealing with conflict in schools.
The University for Peace in Costa Rica, a country mentioned at the end of An Unexpected Hero now includes a copy of the book in their library.
In mid-April, I was invited to give a seminar on 'What Constitutes a Hero' at the National Centre for Peace and Conflict Studies (NCPACS) at Otago University in Dunedin. Professor Kevin Clements, founder of the Centre has proved very supportive, organising this visit and introducing me to the members of the Archibald Baxter Trust who wanted a number of the books for competition prizes. They hold annual commemorative events and are establishing a memorial seat and plaque for Archie and other COs from Aotearoa.
An Unexpected Hero continues to open doors – and windows for me to discover people actively supporting non-violent ways of managing conflict.